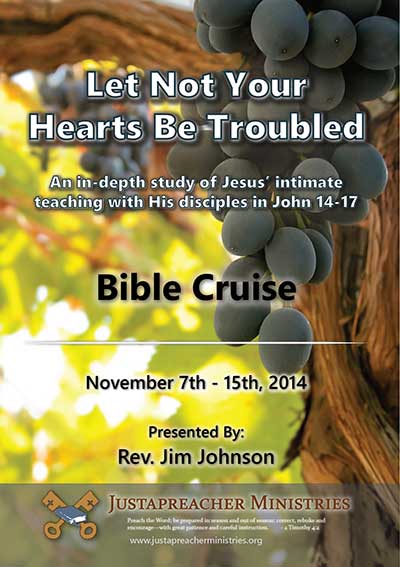 The third Justapreacher Ministries Bible cruise took place November 7 - 15, 2014 on Carnival's Liberty. Jim led a series of messages entitled Let Not Your Hearts Be Troubled, an in-depth study of Jesus' intimate teaching with His disciples in John 14 - 17.
If you would like a 4-DVD video set or 7-CD audio set of the cruise sessions, please contact us!
You can also watch the video sessions online at YouTube!
| | |
| --- | --- |
| Session 1 - Joined with Christ & God | |
| | |
| Session 3 - A Purpose Right Now | |
| | |
| Session 5 - God's Peace Through Trouble | |
| Session 6 - The Father's Love | |
| | |