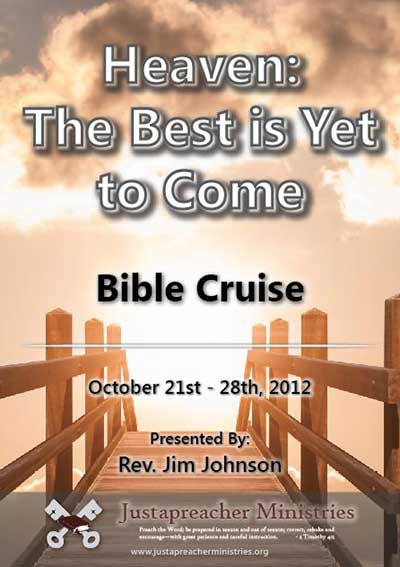 The second Justapreacher Ministries Bible cruise was held October 21 - 28, 2012 on Royal Caribbean's Freedom of the Seas. We had a great time as Jim led a series of messages on Heaven: The Best is Yet to Come!
If you would like a 3-DVD video set or 6-CD audio set of the cruise sessions, please contact us!
You can also watch the video sessions online at YouTube!
| | |
| --- | --- |
| Session 1 - Hiding from God to Hidden in Christ | |
| Session 2 - Intermediate Heaven vs. The New Heaven & New Earth | |
| Session 3 - Why is a Physical Resurrection Needed? | |
| Session 4 - What Will It Be Like to Rule with Christ? | |
| Session 5 - Are There Biblical Answers to My Questions About Heaven? | |
| Session 6 - Can We Experience Heavenly Worship Here? | |