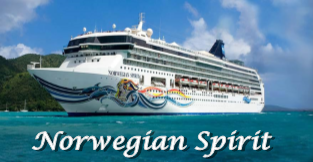 The fourth Justapreacher Ministries Bible cruise took place March 5-12, 2016 on Norwegian's Spirit. Jim led a series of messages entitled Whom Do You Trust?, a study about trusting God's promises and plans for our lives.
If you would like a 4-DVD video set or 7-CD audio set of the cruise sessions, please contact us!
You can also watch the video sessions online at YouTube!
| | |
| --- | --- |
| Session 1 - A Problem Only Jesus Can Solve | |
| Session 2 - What a Life of Faith Looks Like | |
| Session 3 - The Importance of Knowing God's Word | |
| Session 4 - The Importance of Believing God's Power | |
| Session 5 - Trusting God for the Future | |
| Session 6 - Recognizing the Holy Spirit's Leading | |
| Session 7 - Enjoying the Journey | |