Crew Bible Study


Each time we have been on a Bible Cruise, Jim has requested to teach the crew a Bible study. Each time the answer has been no. However, on this cruise, our group coordinator, Shirlyn, asked Jim if he would teach the crew on Wednesday night! Jim and Pastor Jerry Rowell were privileged to lead the crew in worship and Bible study, and Jeff and others were there to minister to the crew as well. The crew gathered at 11pm and worshiped and studied together until almost 1am. Remember, the crew works very long days, usually more than 14 hours. And once a week at the end of that long day, they give up 2 hours of sleep in order to worship, study and fellowship with other believers. What a blessing and an encouragement they were to us!! We pray we were to them as well.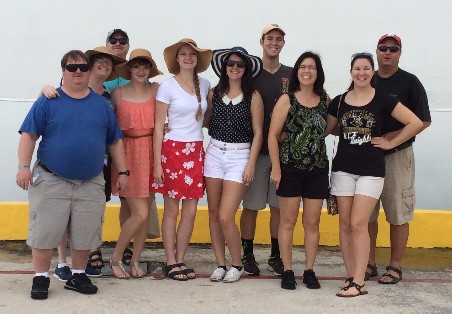 Ten Johnsons made for a lot of fun family time!
Jim and I were very blessed to have our children on this Bible Cruise with us. Nicole and Elise both had spring break, and AJ missed a few classes so he could come. It was the first time they were able to come on a Bible Cruise since 2010. Also, Jim's brother Jeremy, as well as Jeff and Julie and their daughters, Jamie and Alyssa, came along. Jeff represented the Space Coast Seafarers Ministry, and offered insight and materials which helped our group minister to the crew.
It was wonderful having a group of believers from all over the country together on the cruise. We enjoyed getting reconnected with some brothers and sisters from Massachusetts over dinner one evening. It was great fun running into friends from the Bible study sessions all over the ship, including some folks who found our group and joined us once they were aboard. We will be praying about what God wants us to do for our next conference, likely in a couple of years. If you would like to make a suggestion, you can do so in a reply to this email, and we will prayerfully consider it!
The chronological study of Revelation on Tuesday and Wednesday nights in Brevard County has been very eye-opening and encouraging as we look to God's plan for His world and for Israel. If you live close enough, we would love for you to join us in person as we study Revelation. Please contact becky@justapreacherministries.org for information or directions. If you are unable to join us in person, but would like to listen online, all of Jim's Bible studies are available here. We thank you for your prayerful and financial support of this ministry. We are excited about what God has in store for Justapreacher Ministries. If you would like for Jim to speak to your church or organization, please email him at jim@justapreacherministries.org .