Where God Has Sent
This fall has been particularly busy for Jim with much travelling and preaching. Over the last 94 days, since August first, he has been travelling 52 days and home 42. When I looked at the calendar since September 1, I realized that he has been gone 38 out of 63 days. 60% of the time! There were two particularly fast turnarounds recently with him home only 18 hours or only 12 hours between trips. Whew! He got home about 1:15 this morning, and I am glad to have him back!
While travelling, God gave Jim many opportunities to minister. Jim went to Panama with a mission team made up of his son, brothers and nephews. They played local basketball teams and taught basketball and preached at several schools as well as a prison. Jim was the keynote speaker for a week at the Alton Bay Christian Conference Center in New Hampshire. God also allowed Jim to preach fifteen revival messages, five each in Gainesville, FL and Galax, VA and also Beverly Hills, FL. God gave Jim many opportunities to counsel and encourage pastors and church leaders over the last three months, as well.
Thank you for partnering with us in prayer for Jim as he goes.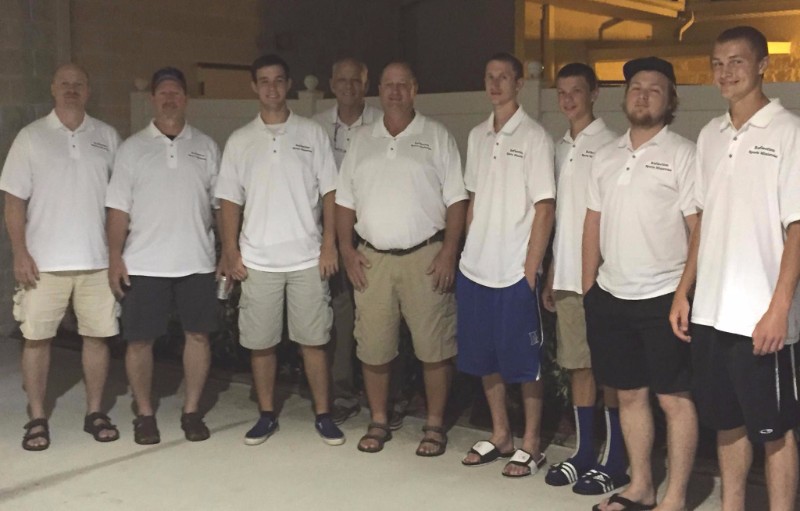 L to R: Jeff, John, AJ, Mike Terry, Jim, Corey, Caleb, Christopher, Casey. Bless Mike Terry for putting up with eight Johnsons for over a week!
On October 15, a very dear friend, Mitch Barnes, went home to be with Jesus. He had pancreatic cancer. Mitch was the worship leader at our church in Chicago, and, some of you may remember, also led worship on the Justapreacher Ministries 2010 Bible Cruise. Jim was in Virginia when Mitch went home, was in New Jersey over the weekend after his death, and flew to Chicago on the 19th, the day of the funeral. Many of you knew when this was all going on, and we want to thank you for your prayers for Mitch's family. Thank you also for praying for Jim as he preached at Mitch's funeral and also travelled almost 4,000 miles in just 6 days. We are so glad to know Mitch is with the Lord, but that does not erase the pain of missing one who meant so much. We are looking forward to seeing him before the throne of Jesus!
Justpreacher Ministries 2016 Bible Cruise
March 5-12, 2016
How would you like to have a relaxing vacation while learning the scriptures? How about finding God-given opportunities to minister to other passengers and the crew of the Norwegian Spirit? If you would like to join us for the 2016 Bible Cruise, please sign up as soon as possible.
Consider giving your spouse a cruise for Christmas!
We currently have lower rates held than are offered online, but the cabins are filling up fast! You can find the information by visiting our website, or by emailing Allison at allison@justapreacherministries.org or Becky at becky@justapreacherministries.org.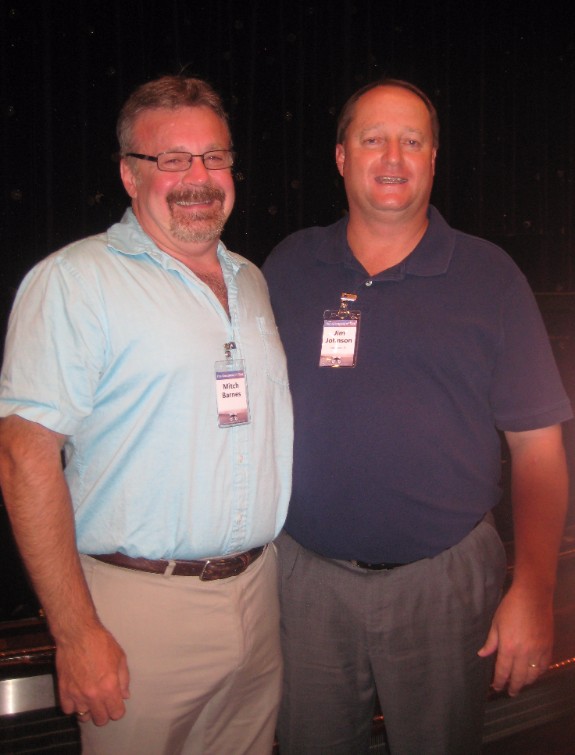 Jim and Mitch in 2010 on the Justapreacher Ministries Bible Cruise.
Thank you for your gifts!
The gifts you give to Justapreacher Ministries are vital to the ministry. God uses your gifts to cover expenses so that Jim can take the word to churches that cannot afford to give him an honorarium or cover his travel costs. Several different times, Jim has been able to travel across the state or farther just to meet with a pastor that particularly needs encouragement.
At the end of the year, God often supplies up to a third of our budget for the coming year through the generous gifts of people just like you. Please pray and ask God if He wants you to contribute to the needs of this ministry.
If you would like to make a tax-deductible donation to Justapreacher Ministries, you may use Paypal to do so through our website, or mail a check to:
Justapreacher Ministries
P.O. Box 372236
Satellite Beach, FL 32937